The best way to connect people emotionally with your brand is to create an animated business explainer video.
Animated business Explainer videos can transport people back to their childhood days and they are more likely to buy that thing that connects them to an emotion.
Gone are the days when creating an animated video was an expensive and time-intense activity.
Best Business Explainer Video Maker Tools in 2022
You might not even need a huge budget to create animated videos to add fluff to your video content marketing strategy.
There are a few types of business explainer videos, the first ones are 2D or 3D Animated Explainer Videos while another type is Whiteboard Explainer Video.
Below you can find out the list of the best business explainer video maker tools to fulfill your video content marketing needs and create compelling explainer videos.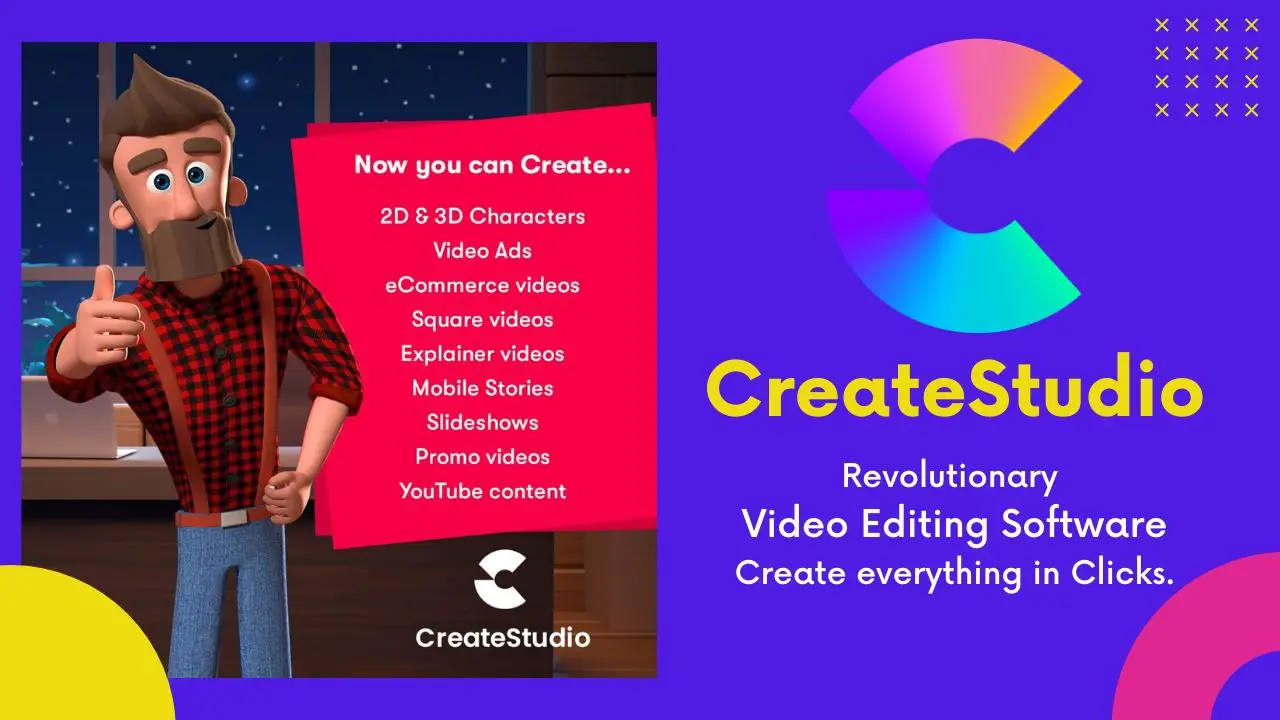 Create Studio is one of the best animation tools to create social media promotion videos, business explainer videos, 2D animations, 3D animations, logo reveals, and much more. Don't forget to check our detailed CreateStudio Review.
CreateStudioPro Review 2022 Latest Download Full Video Animation Tool
Features – Why Create Studio is the best choice?
You can create amazing business promotion videos, 2D, and 3D explainer videos with voice-over.
Ready to edit 40 2D and 3D explainer video templates
Ready to edit social media video promotion templates
2D and 3D Characters with lots of actions
Support a wide variety of video formats and resolutions
Text to Speech human-like voice engine
Create slideshows
Create masks
Create logo animations
Unlimited Full HD 1080p video exports
Access to Premium Audio, Premium Characters, Premium Backgrounds, and Stock Video Footages
Price:
A usual one-time price is $197 however with this link you can get it for only $67 one time and optional all premium access pass for $37 per month.
Toonly is also a desktop application for creating awesome videos and animations.
The major reason why Toonly stands out from other animation software is because of its simple interface and the ease with which one can create videos.
2D Animated Explainer Video Cartoon - Toonly Sample
Above is a video created using toonly video maker
This tool was mainly built for creating social media videos, landing page videos, sales videos, Facebook advertising videos, etc
Price:
But it is not free, you have to pay $20/month for an annual subscription. Limited time promo is going on, which lets you Get Toonly for only $67 one time fee. (no monthly or annual fee).
Doodly is a desktop application software to create whiteboard animation videos. Not only a whiteboard, but you can also able to create blackboard, green board, and glass board videos. Are you excited to know, how Doodly creation videos look like? Then, kindly watch the below video.
Why Doodly explainer videos?
First of all, to create normal videos, you need to spend more money to make it. For example, spending money on Camera, Editing software, Screen recording software, Microphone, and many more things. (It costs approximately $200/month)
But Doodly whiteboard animation explainer videos make everything inexpensive ($240/year). In addition to that, these kinds of animation videos attract and pull more audiences than usual.
For example, consider YouTube platforms. Thousands of videos adding each day on YouTube, but only hundreds of videos are getting reach. So, to stand unique, you need to do something different. Generally, people love to watch animation kind of videos, so out of 10 usual videos, yours will be noticed particularly.
Doodly is useful for whom?
Well, you may ask Doodly animation software is helpful for my work or not?
The answer is, it's useful for those who are making videos to pull the audience's attraction. For example,
YouTube content creators.
Presentation makers.
Enterprises to advertise the product.
Students for their projects.
Affiliate and social media marketers.
Finally, any video kind of video creators.
Price:
It is only $20/month for an annual standard subscription. Limited time promo is going on, which lets you Get Doodly for only a $67 one time fee (no monthly or annual fee).
With 5 different video styles and 120 different types of animations, Animaker lets you make really beautiful explainer videos for your product. This Do-It-Yourself software is also to use.
Their typography & infographic template styles could be really useful for content marketers.
Features:
Web-based video creation tool with 8 visual tools
Multi-user collaboration features
World's largest animated library.
Create up to five two minutes-long videos per month
Export 480p video to Facebook and YouTube (direct downloads require a paid plan)
Price:
A free account will allow you to make videos up to 2 minutes in length, with paid plans starting at $12 per month.
Vyond is a web application that can be used to create cartoon videos or explainer videos. It also has a collaboration feature, which comes in handy when you're trying to coordinate with a larger team.
This online animation tool is one of the fastest yet with professional output. I personally love their background setting and characters. Those templates are fun to watch and are highly converting for sure.
Features:
Offer templates for different  industries, occupations, and concepts
Character-driven stories or compelling data visualizations can be created
Offers voiceover options
Price:
$79/month or $599/year
Create Awesome Videos With the NEW Powtoon
Powtoon is an animated explainer video software for business, It is a popular online video maker that offers editable explainer video templates. The platform offers multiple styles, characters, and backgrounds.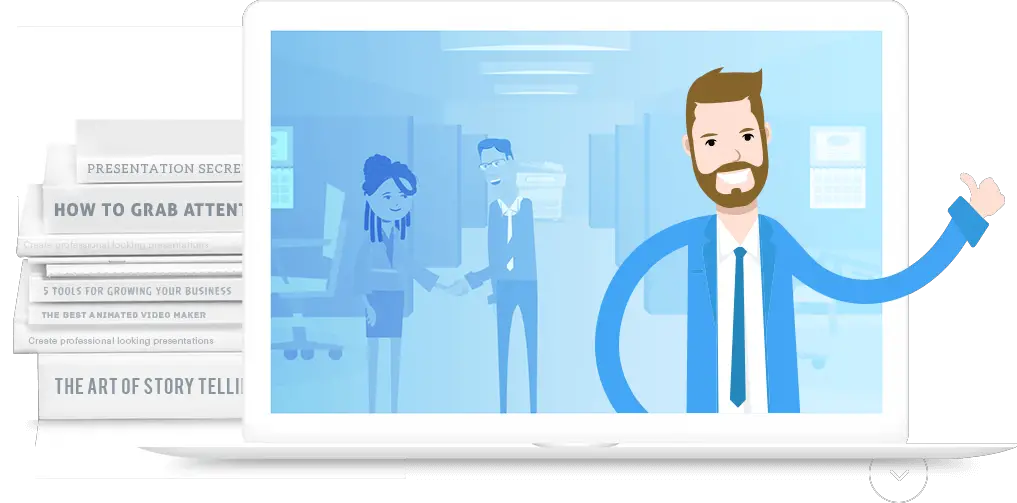 This online video creation platform is excellent for creating short, engaging videos and presentations with a professional look and feel.
The platform is used by top companies like Coca-Cola, eBay, Starbucks, and more.
Features:
Stylize your video with different "looks," including whiteboard and cartoon
Enjoy 100MB of cloud storage
Export at 480p resolution to YouTube, Facebook, Wistia, and Vimeo
Has a dedicated team of technical support, and whenever you need help, you can contact their support
Price:
$59/month; $19/month for at least a year
What is VideoScribe? A one minute overview
Video Scribe specializes in hand drawing animation (whiteboard-style). It includes templates, a drag-and-drop editor and library of media assets. It has a free trial version and supports Mac and Windows both
Price:
$29.00/month; $16/month if you pay annually; $665 if you pay once
Explaindio Tutorial - 11 - How to Create a Easy Short Animation of Cycle Race
Explaindio is also a desktop software for Windows and Mac operating systems. It provides a wide range of preset templates for animation and you can also create custom animations in it.
Explaindio provides 200+ ready to use animated scenes along with 500+ doodle sketches. However, this software is not free.
Price:
You have to pay a minimum of $37 for the basic creator version.
How to use Explee - Animate your Ideas!
Explee is a web app designed for creating super cool whiteboard animation videos without any hustle.  The platform is equipped with hundreds of illustrations and elements so you don't have to search the web for supporting elements (we can add external elements if we need). Like most of the other online software Explee also comes with a 14 days trial period.
Features:
It can be accessed from laptops, smartphones, and tablets.
It allows users to create whiteboard-style animations online.
little-to-no video production experience needed, good for students.
Templates, image libraries, and quick video tutorials are available.
Price:
Starts at $7/month
Marketing Template | Videomaker fx Slides
Videomakerfx is a good catch for small businesses and social media marketers. Apart from other video creation software that has monthly or annual payment plans, this video maker comes with a one-time payment( $27) and you will get the full royalty videos without any kind of watermarks or other branding collaterals along with your created video.
Price:
$27 one time
Verdict
These business explainer video maker software and free online tools give you a lot of features and templates so that you can convert your customers into buyers. Apart from these explainer video tools, Top Video Tools have also covered Best Online Video Maker and Editing Tools.