A video thumbnail for your social media video is essential to get the views you want. Imagine a movie without a poster, a book without the jacket, it's a difficult sell, right? Statistically, 90% of the best-performing videos have custom thumbnails. Yes, Social media tools like YouTube and Facebook will automatically give you 3 choices after upload but something extra special, custom made, and uniquely you will grab attention, make your video stand out, and most importantly increase your clicks, views, likes, and subscribers and all the stuff you really want.
Luckily there's a great selection of YouTube video thumbnail makers with great software tools for desktops or mobiles and even online video thumbnail makers so you don't even have to download. Most of them are easy to use, full of awesome features, and ready and waiting for your creative input. There is a range of prices to suit every need from completely free YouTube video Thumbnail makers to paid-for graphic design software. The choice is yours, so check out our brief but useful guide to some of the best YouTube thumbnail makers around and take a giant step towards going viral.
Also Read: 24 Best Free Video Editing Software Multi Platform
Article Overview:
Thumbnail Blaster is an automated AI (Artificial Intelligence) software for people who don't want to waste time on developing their skill in creating an attractive and professional thumbnail for your YouTube videos. So, Thumbnail Blaster is a AI (Artificial Intelligence) software that will create a visitor catching and traffic boosting type of thumbnail for your YouTube videos is very simple, easy and fast way, which helps you to serve YouTube by uploading a lot of videos to YouTube without having to think on what type of video thumbnail you should make to gain immense views for your YouTube video.
Pricing: One time fee $97 (Claim $60 Discount)
Templates and Graphics: 2,000+ Templates
Type: Online Design Maker
How to Use Adobe Spark (Express) - Beginner's Tutorial
Adobe, Adobe, Adobe, if there is graphic design to be done be sure they'll have a software package that fits the bill. For a YouTube video Thumbnail maker see Adobe Spark. Similarly to Canva, it is not solely a thumbnail maker but it does have a separate special category for them. There are thousands of templates and fonts, ready-made stock images and photos, and lovely design filters. It's not overloaded with features but this helps keep it nice and simple to use and it certainly has all the basic and a neat workflow. The free starter version does a pretty fair job as far as images and icons are concerned but for more powerful options such as collaboration, premium templates, complete fonts library, etc then the Individual plan will broaden your range of possibilities.
Pricing: Free Starter plan, Subscriptions from $11.99 per month
Templates and Graphics: 1,000+ Templates
Type: Online Design Maker
Also Read: CreateStudio vs Toonly vs Viddyoze: Best For Video Marketing?
How to Create a YouTube Thumbnail With the Right Size
Snappa is an all-purpose design software package that is famed for its ease of use that's ideal for all social media posts. Is it a  YouTube thumbnail maker too? Of course, it is, there are even professionally designed templates, loads of them even with the free version. Customized them to your heart's content with masses of graphics and drop and drag editing. One problem may be the volume though, if you want to go for the freebie you only get 3 downloads per month so as soon as you become big, big, big you better think about upgrading.
Pricing: Free (3 downloads per month); Pro version $10 per month ( unlimited downloads)
Templates and Graphics: 3,000,000+ of high-res stock photos & graphics, 6000 + templates
Type: Online Design Maker
Design your own YouTube thumbnail has never been so easy at Fotor!
Fotor is really photo editing software but it's an outstanding tool and can be used as a YouTube video Thumbnail maker to create something rather special for your video. The free version has plenty of high-level advanced features but is still easy to use, plus Fotor has templates for thumbnails under various categories and brilliant editing capabilities, and photo effects. You can get funky with the effects here, to push that thumbnail right up under the noses of the viewers.
Pricing: Free with ads, Pro version $8.99
Templates and Graphics: Categorized selection
Type: Online Design Maker
Bannersnack Tutorial - Getting Started
Ok, so they all claim to be easy to use -we get it. But Bannersnack might just be leading the way in the easy-to-use table. A great choice of professionally design templates, masses of stock images, and graphic for customization, drag and drop features –  simply as easy as. And when you've created that awesome YouTube thumbnail, Bannersnack will let you create other designs just as easily. You've got 10 for free, so don't waste them.
Pricing: Free up to 10 designs, Starter $7 per month, Pro – $18 per month & Plus package $36 per month
Templates and Graphics: Over 2 million photos, templates, textures, elements, and fonts.
Type: Online Design Maker
How to create Youtube thumbnails with Crello
Crello is a full-on graphic design software package offering a huge pack of tools and graphic objects. Professional designers have created over 20,000 templates, a huge library of free photos, and  250 font styles or upload your own in all categories of designs. For YouTubers, there is a specific category for YouTube Thumbnails, channel art, and a youTube intro maker. Another plus point is that Crello support multiple alphabets such as Hebrew and Cyrillic. The free version certainly has enough scope to create something cool, including the full templates and graphic assets but the Pro version adds more premium images and collaboration features.
Pricing: Free (30,000 graphics & animated templates) Pro $7.99 per month (increased  premium images and collaboration features)
Templates and Graphics: 500,000 photos, huge library of assets, 20,000 + templates, 16,300 static layouts for thumbnails.
Type: Online Design Maker
Visme the Ultimate Presentation, and Design tool
Famed as an infographic and presentation designer, Visme also has a YouTube thumbnail maker with a selection of fully customizable templates, millions of assets, filters, and color overlays. Easy drop and drag editing, straight forward download and upload, and plenty of icons and text features. a no-nonsense, Youtube thumbnail maker that'll get the job done effectively within a few creative clicks.
Pricing: Free (limited templates & up to 5 projects); Standard $14 per month (15 projects); Complete $25 per month (unlimited)
Templates and Graphics: Plenty of templates, icons, fonts, and other assets.
Type: Online Design Maker
How to make a thumbnail (FotoJet Review) | Tech videos | Kayla's World
Fotojet's online tool provides has features for all elements of graphic design and photo editing. This includes a specially designed advanced YouTube video thumbnail maker and YouTube banner maker. There is a nice range of usual tools such as filters, cropping, and rotating as well as a great selection of assets and templates to add to your design. having said that though, the Free version is limited to basic templates and assets but the paid-for version certainly delivers. Creation is a really simple 3 step process, of selection, edit & share so it is as uncomplicated as possible.
Pricing: Free  (basic version), Plus version $6.99 per month, or $3.99 billed annually.
Templates and Graphics: 800 + premium templates, premium shapes, fonts, icons, clipart, and photo effects.
Type: Online Design Maker
How to Design Graphics for Videos in PicMonkey
This powerful photo editor and graphic design software is only available on subscription so if you are looking for freebies, move on. In some respects, you get what you pay for with PicMonkey with a great selection of advanced tools and features from filters to exclusive overlays and exclusive effects (Zombify, Mirror, Ombre, etc). There are AI tools for touch-ups and face beautification (that's something we all need) and beautifully design templates. There is also a direct YouTube export feature, making life even easier. Picmonkey's subscription includes extremely useful collaboration functionality even in the Basic version.
Pricing: Basic $7.99, Pro $12.99 & Team $33.99
Templates and Graphics: 100+ templates, fonts, textures and loads of graphics.
Type: Online Design Maker & Mobile App
How To Make Youtube Thumbnails Without Photoshop - Placeit Tutorial
Placeit is a frighteningly easy designer covering a huge number of design fields. Search through categories to find your YouTube thumbnail templates, filter them to your area of interest, click on your choice and add graphics, text, upload images and customize, right there, and then on the page. Placeit offers a subscription service or interestingly a one-off payment option for your design, $2.95. There is no design experience necessary but it can be a little inflexible if you want to push your creative flow. And of course, once you've got your YouTube site fully covered you can use Placeit for merchandise design, social media posts, etc. Think big.
Pricing: Individually priced templates or Subscriptions $14.94 per month, $89.69 per year.
Templates and Graphics: 254 YouTube thumbnail categorized templates, assets.
Type: Online Design Maker
An easy-to-use online image editor & animation maker for posters, animated gifs, banners, and most importantly YouTube thumbnails. Start by opening one of the numerous publically designed templates, customize, save, and download and it's done. You can add your own graphics or use the provided assets. It's a little basic but very functional and versatile enough for other design needs including social media posts. Plus of course, there is animation potential.
Pricing: Start for free (up to 5 visuals); Pro version $7 per month, Diamond version (animation tool) $12 per month.
Templates and Graphics: 100,000 templates, 5,000 animations, over a million photos and shapes.
Type: Online Design Maker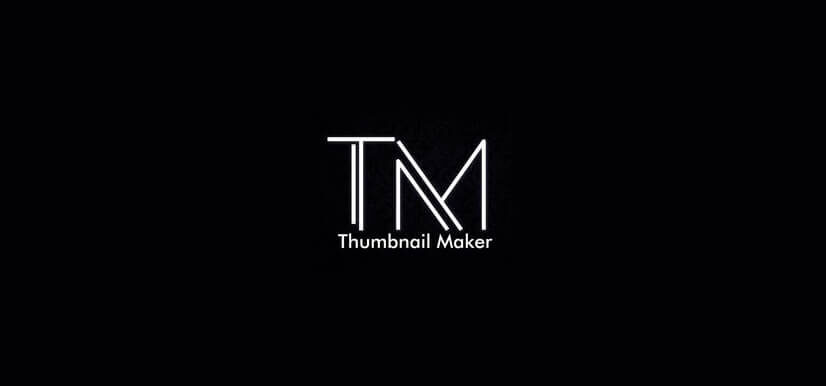 It's all in the name, well not exactly. Microsoft's app isn't just a YouTube thumbnail maker because you can use it for channel art and YouTube banners too and other social media sites. It's slider controls for changing fonts, and plentiful editing tools plus effects (stickers, colors, fonts) means that anybody can create something attention-grabbing and effective in no time at all. It's fast and free but the pop-up ads could get you down but bear in mind that these ads are paying for your app.
Pricing: Free with ads
Templates and Graphics: Stock images and hundreds of backgrounds.
Type: Microsoft Store App
Also Read: 10 Best Screen Video Recorders | Phone, Win & Mac
Design online easy with EDIT
A slighter lesser-known graphic design software is Edit.org, it's free and ideal for any number of design purposes. There are special sections for menus, invoices, flyers, book covers, twitter headers, and less we forget YouTube thumbnails. Within Edit.org thumbnail templates that are fully customizable, from the backgrounds, fonts, graphics, effects, and much more or you can start from scratch. There are resources galore so you can create a professional image for your video or channel no matter what the subject or style.
Pricing: Free
Templates and Graphics: 1000s free templates, graphics, fonts, etc.
Type: Online Design Maker
Introducing Pixelixe Studio - The most easiest way to create graphics ( 3D Mode )
Choose your dimensions, pick a template, drag, drop, adapt, retouch, fine-tune, and download -done. Pixelixe has ready-made formats for Ad banners, Instagram, Twitter, Facebook, and your favorite Youtube thumbnail maker. From the pre-made YouTube thumbnail templates, select or start from scratch and then get to work adding your content, tune it up on the excellent caption editor to give it a really professional look, sit back, and admire. the free version has all the tools but is limited to 6 downloads per month and only 10 photo effects so if you are going to go mad on Youtube posts you'll need to consider the Professional package.
Pricing: Free (6 downloads per month); Professional $8.99 per month (unlimited).
Templates and Graphics: Over a million stock photos, loads of graphics and icons, templates.
Type: Online Design Maker
Welcome to the New BeFunky
BeFunky's free all-in-one online Creative Platform has everything you need to easily edit photos, create graphic designs, and make photo collage but I hear you ask is it a YouTube thumbnail maker. the answer is an undoubted yes. From the graphic design filter, search templates and there as if by magic is a selection of fine YouTube thumbnail templates (and channel art ones too). Click and get customizing. The free version is limited in both template number and editing and graphic options but it's a nice risk-free way to kick off before upgrading if you've got the buzz for BeFunky. The plus version gives much greater creative freedom.
Pricing: Free, Plus version $6.99 per month.
Templates and Graphics: Specific Thumbnail templates, Plenty in the paid-for version.
Type: Online Design Maker,  mobile app
Canva Thumbnail Tutorial: How to Make a YouTube Thumbnail with Canva
Canva is one of the most popular and well respected online graphic design tools around at the moment and it's hard to believe but it can be used for free. Whilst it may be used for a wide range of graphic design projects, you are here for a YouTube Thumbnail marker, so let's focus. Drag and drop simplicity, great effects, free stock illustration, fonts, and millions of photos and images plus excellent customer support all combine to make thumbnail making a breeze even for non-designers. There are also templates so you don't need to work from scratch, registration is needed. Premium features such as a greater number of images and templates come with the Pro paid version but we can assure you the free version has plenty of potential and the mobile apps make it great for creation on the go.
DesignCap Tutorial - Guide to Create Amazing Graphic Design Online for Free
Yet more graphic design software -you can't say you don't have a choice especially for marketing, presentation, and a special section for Social Media Graphics, including YouTube thumbnails. Templates in categories, easy to use editing and customizing, great resources, and assets including charts and infographics. The top-priced Plus option is very affordable but the free version only allows for 5 image uploads which is quite limiting.
Pricing: Free (limited to 5 image uploads); Basic $4.99 per month; Plus $5.99 per month.
Templates and Graphics: Many templates and stock icons library.
Type: Online Design Maker
Also Read: Doodly vs CreateStudio | Best Engaging Video Tool
How to make a YouTube Custom thumbnail quickly and for FREE - TubeBuddy Thumbnail Generator
Tubebuddy is a little different being a browser extension, especially for Youtubers. The whole idea is to help grow your channel and create content as well as manage and promote your growing YouTube presence. The software platform integrates directly into YouTube's website and provides tools that save creators time, provide analytics, help with keywords social sharing and distribution. A great Youtube tool, which would be whole without a YouTube thumbnail maker. This generator will use stills from your film, allows you to create your own templates (in the paid-for versions) and save. The free version is limited to added one custom image but if you are serious about this YouTubing it's got to be worth paying for this service, even if it isn't the best for thumbnails it provides so much else that you need to seriously consider this extension.
Pricing: Limited free version; Pro $9 per month, Star $19 per month & Legend $49 per month.
Templates and Graphics: Small library
Type: A browser extension for YouTube.
Verdict
If you want to increase traffic to your social media or YouTube channel you need custom YouTube video thumbnails, without a doubt. They should engage the viewer immediately, stoke the fires of interest, and get that viewer clicking on your content. The thumbnail isn't the whole story, of course, quality content is vital but the thumbnail is that crucial introduction and way in. One thing is for sure there are plenty of custom YouTube video thumbnail makers out there, and many do similar jobs. Don't forget to check out YouTube HD Thumbnail Downloader Online Tool.
You need to research think about what you need in quality but also quantity. And remember most of these software packages do more than just make Youtube thumbnails, so if you are going to invest, make it worth your time and money by getting the most out of your complete design package.