WHAT IS PHOTOVIBRANCE?
PhotoVibrance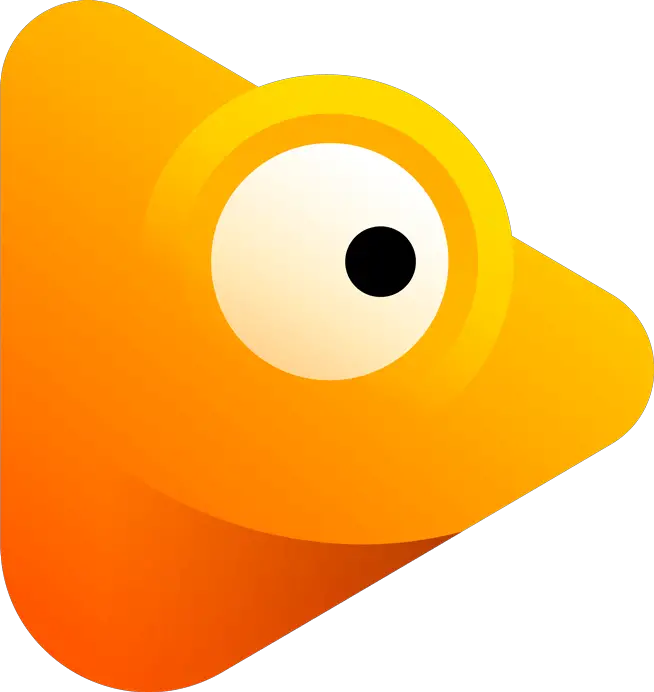 is a desktop photo animation software which makes it easy for everyone to transform static images into moving motion pictures that get attention. Stop being stressed about the previous boring photos but animate them into the images that people can't help looking twice.
Moreover, there is no technical skills required. All you need to do is to simply point, click & download your new eye-catching moving images and drive traffic from social media.
WHO CREATED THIS SOFTWARE?
PhotoVibrance is created by the same creative inventors behind the awesome video animation software CreateStudio. You're going to meet Josh Ratta, who is the leader of this group and the CEO of Vidello.
This company specializes in providing entrepreneurs, marketers & business owners with the solutions of video creation of website design. With the reputation of Vidello along with the impressively good feedback of their latest product – CreateStudio, I believe that PhotoVibrance is no exception and certainly does wonder for your business.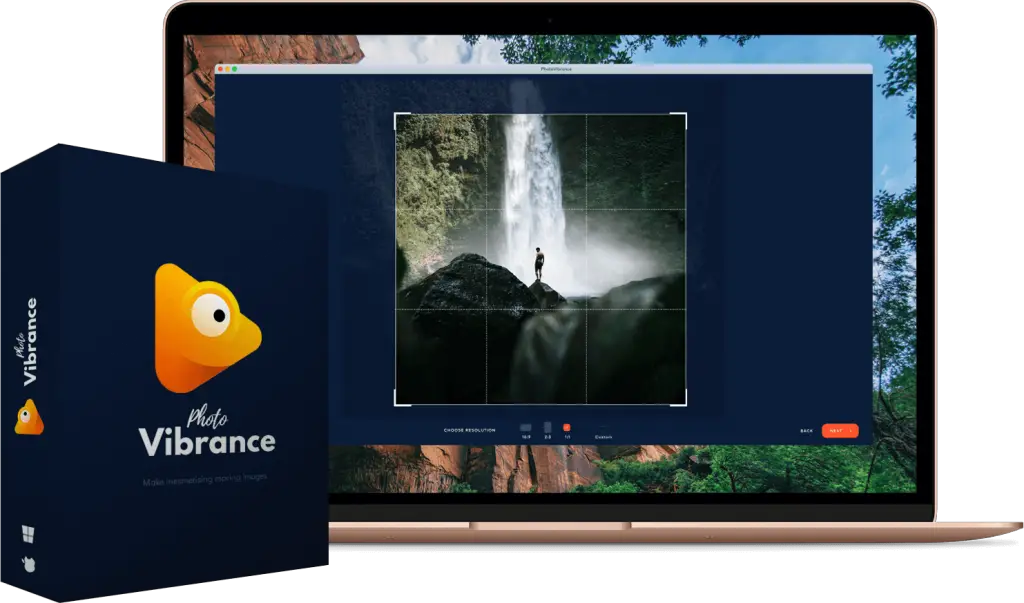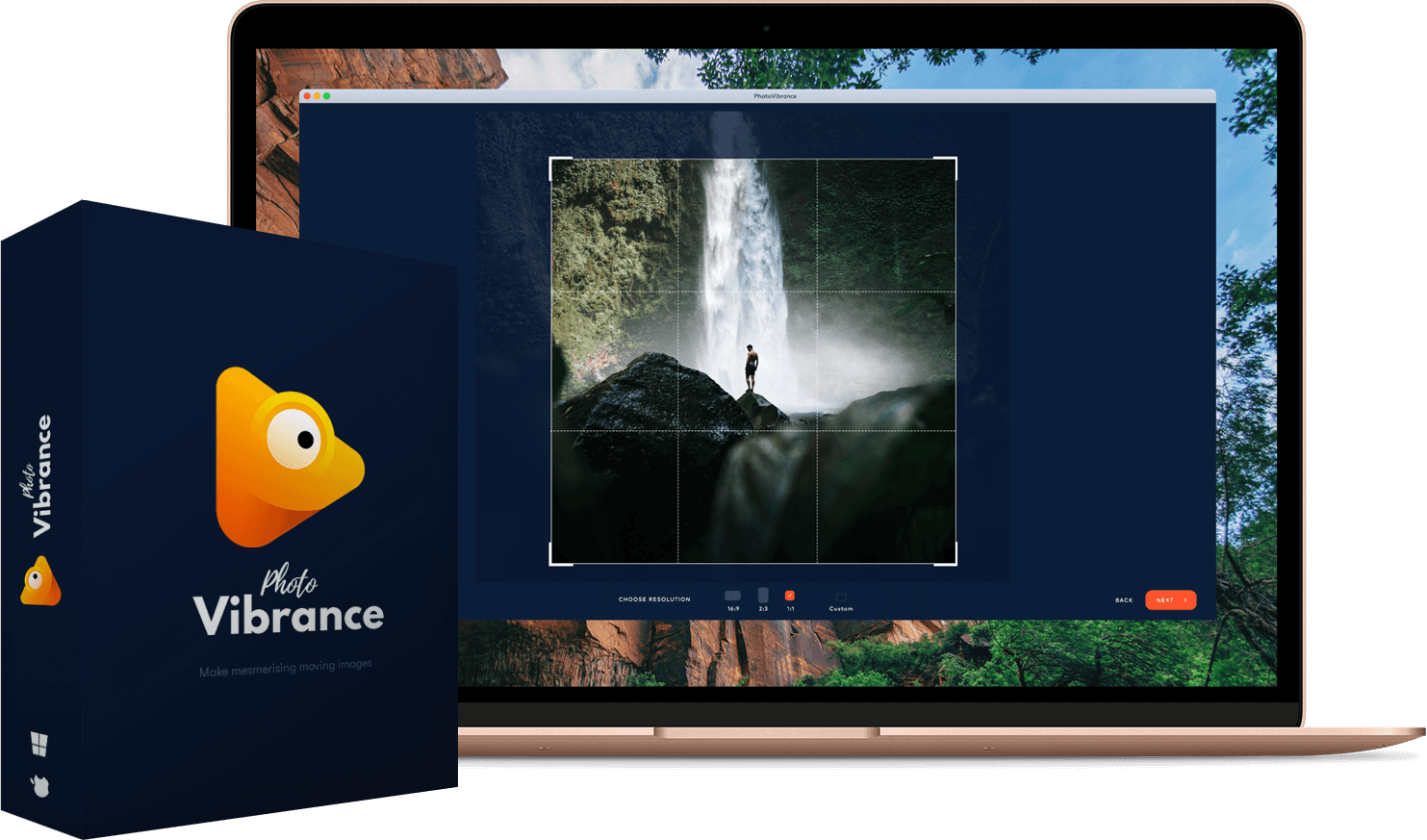 PHOTOVIBRANCE REVIEW – THE FEATURES YOU ARE EXPECTING
✅ PhotoVibrance - 3D Parallax Video Maker Motion Pictures - Bring Photos to Life 2021
PhotoVibrance enables you to quickly transform standard static images into mind-boggling MOVING images, without any complex editing!
In this feature section, I'm going to introduce some cool stuff you will experience with this software:
   ♦   PHOTOVIBRANCE
Get lifetime access to PhotoVibrance desktop software that works on both MacOS & Windows operating system.
With PhotoVibrance, you can create a variety of effects such as Magic motion, 3D Parallax, Sky Replacements, Video Masks & basically transform static images into moving masterpieces!
As far as I'm concerned, the effects like Magic Motion and 3D parallax requires advanced skills but thanks to PhotoVibrance, you will find creating them no longer a big deal
   ♦   PHOTOVIBRANCE SYSTEM REQUIREMENTS
Windows or Mac OS
5GB Free Disk Storage Space
8GB RAM
Intel Core i5 6th Gen or Higher
Create unlimited projects & mesmerizing moving images. Then you can use them in your Posts & Ads to drive more eyeballs for building brand awareness & generating more sales at the same time.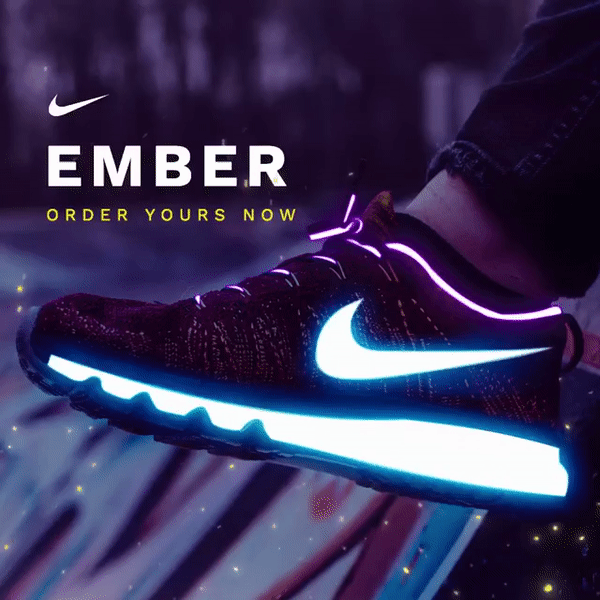 In addition, you are able to change the resolution in one click or manually set custom dimensions so that the images fix every single social media platform: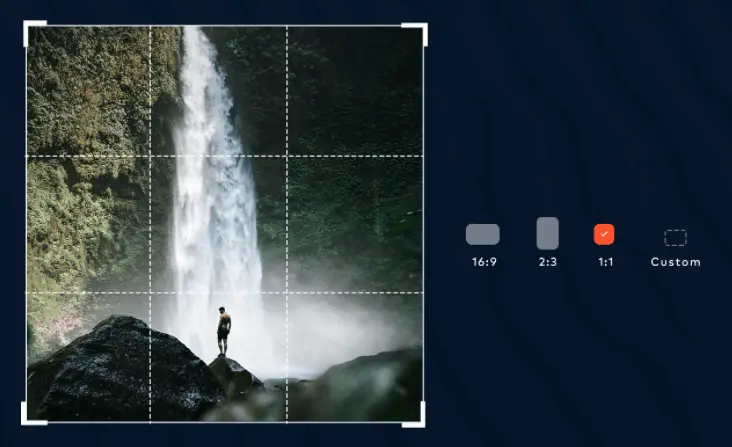 ♦   VISUAL EFFECTS & 3D PARTICLES
Enhance the effectiveness by adding visual effects, sky replacements & 3D particles to your images.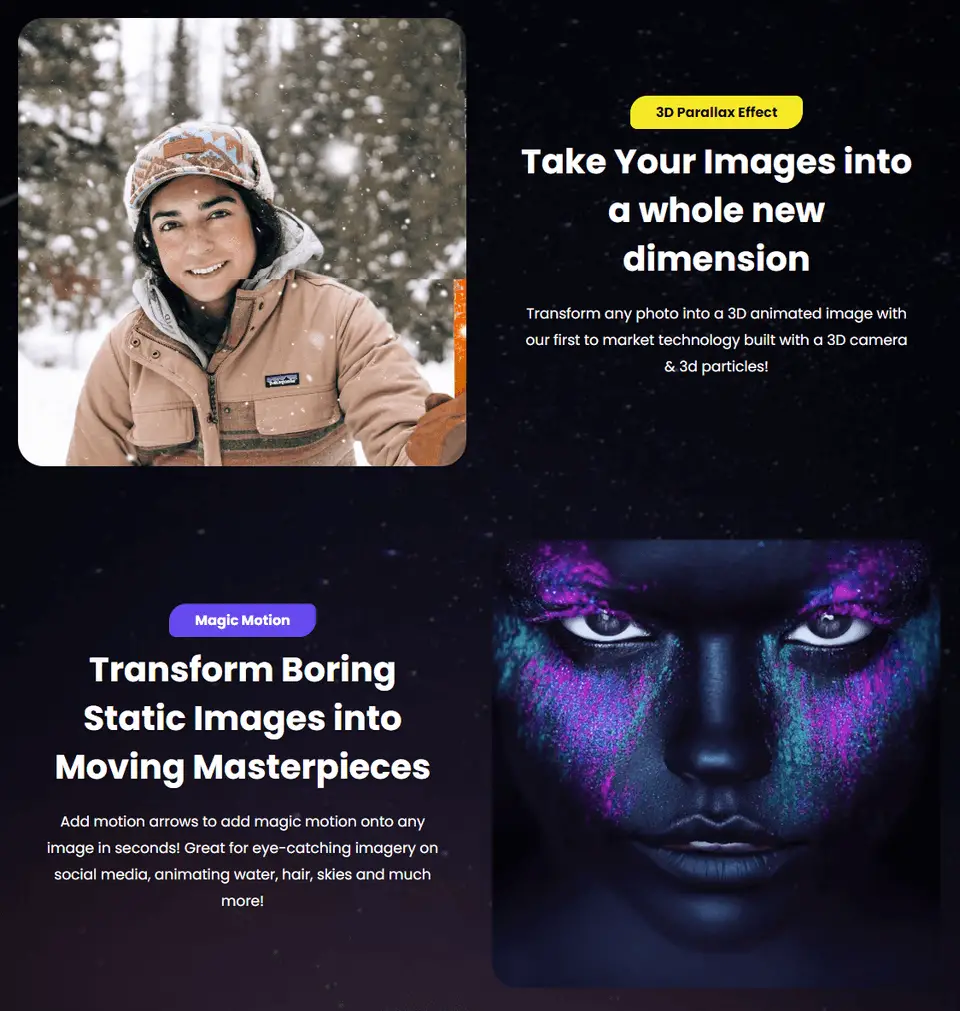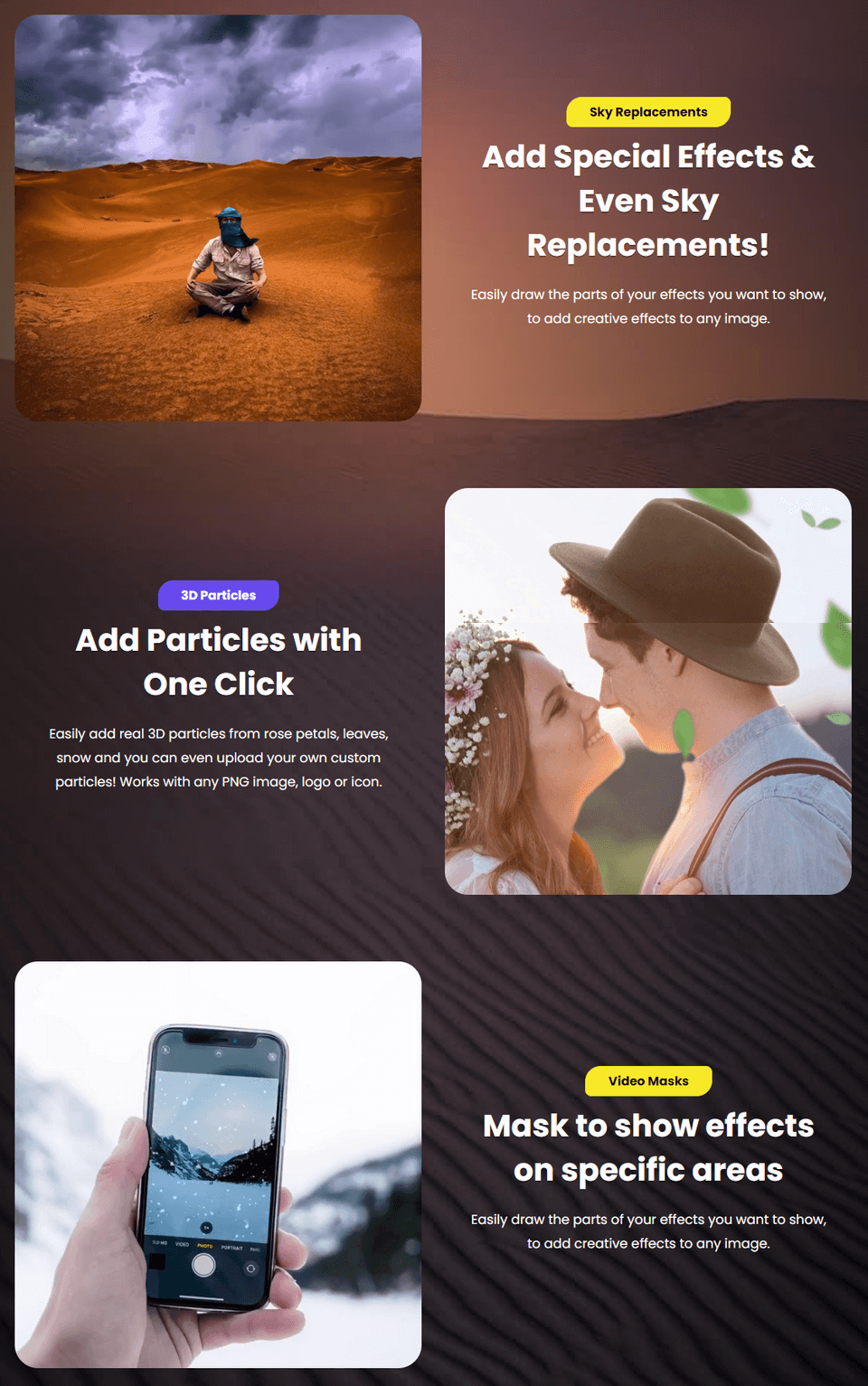 ♦   STOCK INTEGRATION
PhotoVibrance is integrated with Pexels & Pixabay, which allows you to access millions of royalty-free images. Search a keyword, and select the image!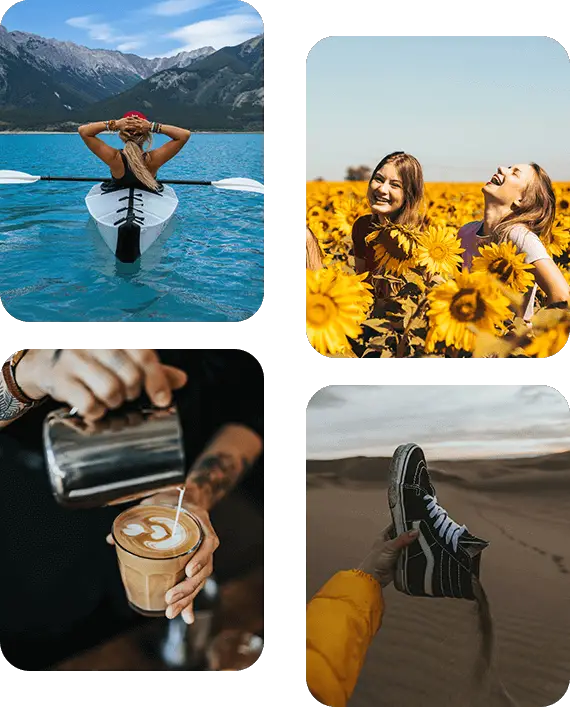 ♦   SEAMLESS LOOPS
Every image created with Magic Motion is exported with seamless loops, great for using on website hero's or social newsfeeds. You can also create seamless loops using keyframes with the 3D parallax effect.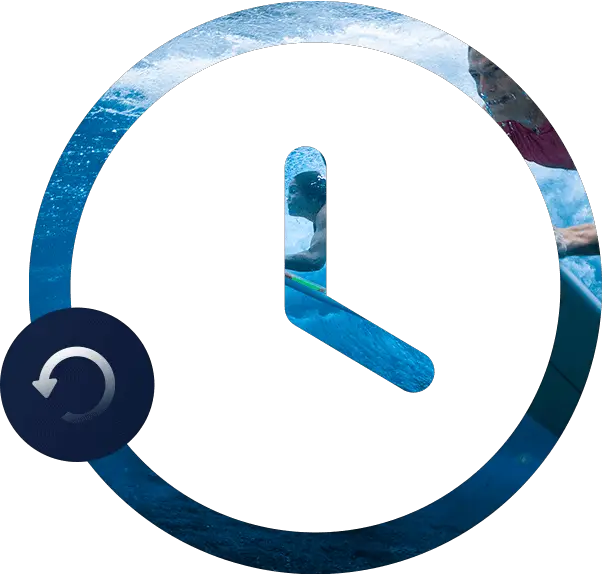 ♦   COMMERCIAL USE (OPTIONAL)
When you purchase PhotoVibrance with commercial use license, you are allowed to use this animation software to create & sell visually-attracted moving photos to your clients with point & click simplicity. As a results, you can generate a handsome income stream by offering the content service to business owners.
This kind of service is in high demand as businesses need consistent content for their advertising & social media activities.

PHOTOVIBRANCE REVIEW – HOW IT WORKS
Let's move on to discover what magic PhotoVibrance can do to transform the boring content.
Drag a static image into PhotoVibrance' main dashboard to start editing it.
PhotoVibrance allows you to transform your photos in 2 ways: with Magic Motion (easy level) and 3D Parallax (a little bit more advance)
   [+]   Magic Motion
With Magic Motion inside PhotoVibrance, all you need is to play with arrows & anchors:
Use Anchors and click around the parts that you want to remain still
Use Arrows to choose the motion area to add movements
After that, simply hit "Play" and PhotoVibrance will implement the effects you set on your photo:
Well, you better watch the video to see the difference as I just capture the image here so you can't see the effects.
Besides, to make the content look nice, you can add other cool things like texts, elements, images, shapes, etc.
And add sky replacements by using creative Mask effect:
   [+]   3D Parallax Effect
Apply this kind of effect on any PNG image, logo or icon.
Moving camera rotation to select the area:
Adjust some settings that you like:
Easily add real 3D particles from rose petals, leaves, snow
PHOTOVIBRANCE REVIEW – THE PRICE & UPGRADE DETAILS
PHOTOVIBRANCE
How much does it cost for this PhotoVibrance desktop software with all features included to make eye-catching photo animations?
Let's look at the price table below: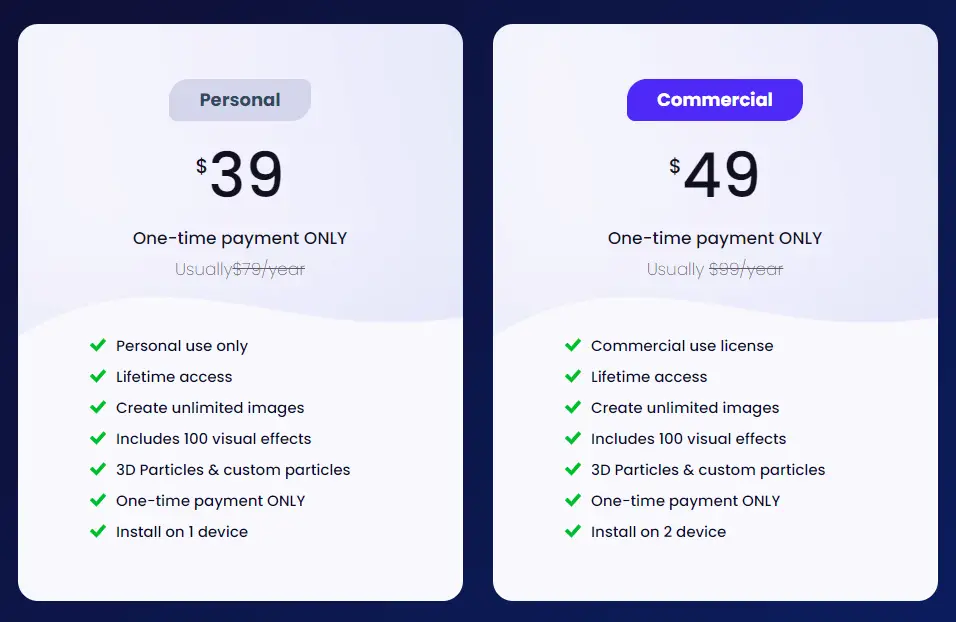 There are 2 options available:
   ♣   Personal License: $39 
   ♣   Commercial License: $49
The major differences between these 2 options are:
   [+]   The number of device you can install PhotoVibrance on
   [+]   The Commercial License
If I were you, I would definitely choose the option with Commercial use. Although I need to pay an extra amount of $10, what I get in return is completely worth it.
Firstly, I work as a freelancer marketer and I simply need this Commercial use to charge my clients for the services. Of course you may not need this at present but who knows in the future you want to make some extra money with this demanding service.
Secondly, by installing on 2 device, my partner & I can work on more projects for our own projects and for our clients' ones, which clearly helps to save time & efforts while increasing our revenues. Why not?
However, no matter what I say, the decision is yours so consider your demand & budget to choose the appropriate option! But if you like this software, purchase it as soon as possible because after the launch period, PhotoVibrance will be sold at a higher retail price. I believe that today PhotoVibrance review has given you sufficient information so that you can decide whether this tool is worth buying or not.
Please put in mind that your investment is totally risk-free and protected by 30 Day money back guarantee. Whenever you find any errors inside the software, you can request for all your money back. Therefore, do not hesitate anymore with this good deal!

PHOTOVIBRANCE REVIEW – THE UPGRADES
OTO 1: VIBRANCE KICKSTART ($67 – $97)
The creator kit includes additional elements, templates & resources. For example:
[+]   15x Done-for-you templates for an entire year (total 180) [+]   Object image library [+]   Extra effects [+]   Option to share projects with team members & other users. [+]   3x Extra licenses for team members
OTO 2: VIDEO PRO CREATOR BUNDLE ($197)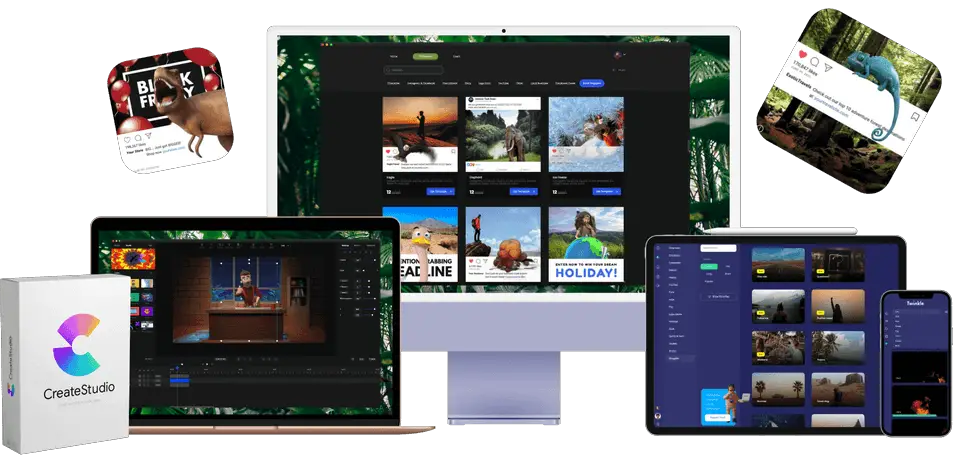 You are getting the video bundle which includes four of the vendor's best selling products listed below:
Product #1: CreateStudio
Get lifetime access to our 5 star video animation software, used by 20,000 creators, that gives you the full flexibility to create whatever you like!
Product #2: Scroll Stoppers
Instantly grab attention on the newsfeeds with this jaw-dropping fully customize-able scroll stoppers! Use a template or build your own with 100+ effects.
Product #3: Twinkle Audio Platform
Royalty free music library with over 500+ tracks, a full soundfx library, text-to-speech creator with 20 new tracks added every month!
Product #4: Twinkle VFX
Add special effects onto your videos with loads of awesome vfx from glitch effects, light leaks, snow, rain, fire, embers and more. Both mp4 & Webm file formats.
DOWNSELL 2: TWINKLE AUDIO SUITE ($99)
[+]   Over 500+ custom made royalty-free music tracks in all the most popular music genres. [+]   20 new tracks added every month. [+]   Full SoundFX library [+]   Multi-language Text-to-speech creator
WHO SHOULD USE THIS SOFTWARE?
Literally all those who use graphics in their business can benefit from PhotoVibrance. Everybody wants high-converting content with impressive graphics for their social media posts & advertisements and with PhotoVibrance you can do just that.
The tool will do wonders for the following professions:
   [+]   Social Media Marketers
   [+]   Designers
   [+]   Freelancers
   [+]   Copywriter
   [+]   Product Creator
PHOTOVIBRANCE REVIEW – PROS & CONS
PROS:
    ♦    A super low one off price
    ♦    NO on-going fees
    ♦    Perfect for grabbing attention on social newsfeeds
    ♦    Generate more traffic for your business
    ♦    Create Mesmerizing Moving Pictures in Minutes
    ♦    Developed by a talented team
    ♦    Work with no internet connection
CONS:
I find no difficulties using this desktop software
PHOTOVIBRANCE MOTION PHOTO SAMPLES
CONCLUSION
With PhotoVibrance, you will no longer have to struggle with creating visually attractive effects that hypnotize attention & convert to profits. Hopefully what I have experienced with the software will help with your decision.
✅ PhotoVibrance Review | 3D Photo Animation Software Windows Mac
To sum up, this desktop software comes with such an affordable price and a set of proven features that will not let you down. So, after reading this PhotoVibrance review and you find this is the "conversion tool" you're looking for, put it on cart before the price increases.
Last but not the least, thank you so much for spending time on my website!