To record your computer screen, you can either install a screen recording program for that or skip the installation hassles and use one available online. If you use the web-based online screen recorders or screen video recorders for Chrome, you do not have to download and install software on your PC, all you do is add the extension to your chrome web browser, and you are good to go.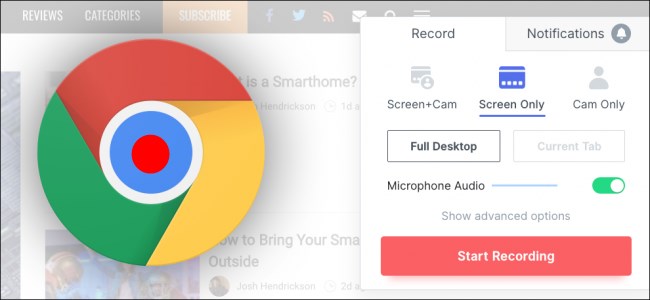 People use screen video recorders for Chrome to edit mp3s, record social media videos, and other minor tasks. However, it is very difficult to find a good screen recorder for chrome.
Best Screen Video Recorder Chrome Extensions
Most of them are not quite what you are looking for and you will only get a bad-quality addon program or desktop-based launcher program. We have researched and compared the 7 best screen video recorders for Chrome to help you find an ideal fit for your needs.
1. Screencastify – Screen Video Recorder
It's a Chrome browser extension that allows you to record your screen. You install the extension, and then you can get started making recordings!
Basically, you can make a video that shows what you are doing on your screen, as well as record an accompanying audio track (useful if you're narrating a tutorial or something) or you can use system audio.
How Much Does It Cost?
Screencastify offers two pricing plans:
Free
Premium – $2 per month (paid annually)
The free version allows you to record the screen, record audio, etc. However, you have fewer export options, and your videos will also have quite a prominent watermark in the upper right-hand corner of the screen.
I used the free version for about half a day to test it out. I was impressed enough to purchase the premium version, and I am very glad I did. I've already produced a number of videos using Screencastify premium, and the extra features and lack of watermark make it well worthwhile, especially when you consider the competitive price.
Pros
Automatic saving to Google Drive
No software install required
Export as MP4 (premium version)
Competitive pricing
Easy to use
Record desktop
Overlay webcam
Works on Chromebook
Basic editing features
Cons
Can be a bit fiddly
Not the smoothest frame rates
No lifetime pricing option
2. Screen Recorder & Video Editor
Create or record videos quickly from a chrome web browser with a single click using Hippo Screen Video Recorder Exension. Capture screens, webcam recording, and audio. Import videos from mobile and desktop. Trim clips, cut, crop, add text and annotate any part of the video
Add unlimited tracks, background music, narrate over, adjust clip settings, and markup.
Add introduction and end cards to the video.
Export videos to Gdrive, Youtube, Vimeo, and Google classroom.
Embed videos on a website, or on social media.
Share videos with password protection and set an expiration date for the shared video link.
View real-time video engagement on the analytics dashboard.
Highly secure video hosting infrastructure.
Guest recording links for anyone to create videos and send it back, without having to sign up with the tool.
Organize videos with video management features such as categories
Record videos and add them as replies in support tickets from Freshdesk, Zendesk, and FB Workplace.
Integrates with Gmail, Google Classroom, Google Docs, Google Slides, and D2L.
Hippo Video offers a variety of plans and packages for a few different use cases focusing on Marketing, Sales, and Support. Each use case has its own set of plans. Pricing starts at around $29 a month for Sales. Plans are feature-based with caps on the number of videos created. A Free plan is also offered.
3. Loom for Chrome
Loom for Chrome is good for screen video recording web pages and desktop. If you want to make pretty simple tutorial videos you could do much worse than Loom. I wish the editing options were a little more robust and that it would include some volume control but hey if you have no other option and want to make sure that it is accessible right away – this is an option.
A lot of schools (and school districts) ban student access to YouTube during the day. This is a solution to that problem and a good solution at that. You can always download your videos and then re-upload them to YouTube if you desire.
They do mention in their Help Center that Loom is free but I get the sense that a paid version is coming. Hey-these people need to eat and making something like this has got to take time, money, and dedication. My hats off to them.
Loom Chrome Extension Intro🎥😄
4. Fluvid – Screen Video Recorder
Whether you are a business owner, salesperson, educator, student, or a creator, Fluvid's chrome extension allows you to record and edit your video messages for easier video communication and share instantly across social media platforms.
Who can use Fluvid and how?
1. Educators & Professionals
• Give lectures to students
• Streaming your lectures and record at same time
• Tutorials on any topic
• Explain class assignments
2. Sales Person
• Give a detailed product demo to clients
• Sales pitching
• Run follow-ups with potential leads
• Training videos to teams
• Create presentations
3. Business Owners
• Reach out to clients and get instant feedback
• Provide complete customer support
• Recruitment reach out to talents
• Share a brand message
4. Creators
• Create faster content and share with followers
• Reach out to fans and connect with them
5. Tech Developers
• Easier communication with team members
• Review code and share updates
• Review new features and communicate
• Bugs and code issue demonstrations
6. Designers
• Capture new design features and UX experiences
• Share designs with team members
• Collaborate with fellow designers and share ideas
Fluvid is for anyone and everyone!
Screen Recorder and Video Communication Tool for Laptop and PC Users | Fluvid
5. Nimbus Screenshot & Screen Video Recorder
Nimbus Screenshot and Screencast tool can serve you better for your screen recording needs. It can capture shots in five different forms: entire screen, blank shots, selected area, the entire page, and any visible portion of the screen.
This tool is developed with advanced editor extension that possesses effective blur, draw, write, and crop tools. The end results can be saved to JPG, BMP, and PNG format.
Nimbus Capture - Record Screencasts using Chrome Extension
6. Video & Screen Recorder for Business – Drift
Record video, screen, or GIFs. Track views and chat live while they watch. Free screen recorder for anyone! Track views, book meetings, & chat live. From proposal walkthroughs to engaging customers or answering complex questions, Drift Video makes it easy to get your message across and start conversations.
Drift Video is 100% free for anyone to use and built to save you time. With Drift Video, you can send personalized videos, screen recordings, and GIFs in 3 clicks.  Track your video views and book more meetings with real-time notifications and, only with Drift Video, live chat alongside your video while they watch.
Stop wasting time on unnecessary meetings and long emails that get ignored. Start sending rich, personal messages that stick and convert with Drift Video.
7. Screen and Webcam Recorder – Vidyard
Vidyard suggests that sales reps could use the product for personalized product demonstrations and lead prospecting. Marketers could use it to record presentations and training content, and executives could use it to communicate with a large number of employees.
In addition to recording and sending your videos, Screen & Webcam Recorder chrome extension will report on its metrics, so you can see if your intended recipient actually watched the video and how much of it was watched.
Verdict
After having a look at all of the above screen video recording chrome extensions, you can definitely choose the best one for yourself. It will be helpful to create sales or marketing videos or to help your clients understand or troubleshoot your product or services, all within the Chrome Web Browser. Top Video Tools has also covered Best Video Editor Apps for Phones and Best Online Video Editing Tools For Business.