Speeded-up video is often used in movies and TV shows to create a comedic effect. You can also apply a fast forward effect to long scenes in your movie to reduce the total running time. In order to do that, you need to have Video Speed Changer Apps and Tools.
It's particularly helpful in instances where you want to show the whole scene but don't want to make the movie overly long. Also, speeding up a video might be useful when you need to get through a long lecture or create a summary of someone's speech.
So, what do you do if you want your video to playback faster? There are several tools that can help. In this article, we'll describe how to speed up a video with a desktop program or a mobile app. Click one of the links below to proceed to the appropriate section.
You can easily control the playing speed of your film. Different Video Editors can speed up or slow down your video by up to 10 times in just a few clicks.
These softwares are also an all-in-one video editing tool that you can use to create your own movies, complete with special effects, music, and title text. In this article, we will discuss iOS, Android, Mac, and Windows Software to be used as Video Speed Changer.
1. Video Speed: Fast Video and Slow Video Motion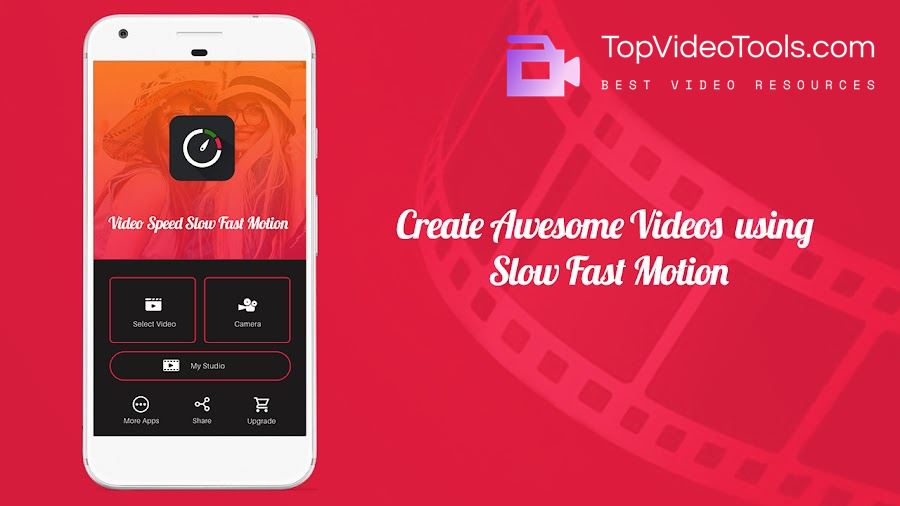 You don't need any video editing experience to create slow or fast motion videos with this app. Simply import the footage you recorded with your Android phone and choose one of the preset video playback options.
The app lets you increase or decrease a video clip's speed up to four times, so you just have to select the portion of a video you'd like to speed up or slow down and export it to your phone's gallery. That's the easiest way to change video speed on Android.
Optionally, you can add music to each video you edit with this app, but you won't be able to perform color corrections or apply visual effects to the footage you process with this app.
Pros
Enables users to speed up or slow down videos up to four times their original playback speed
Supports a broad range of video file formats
Short rendering times
Simple and intuitive IU
Cons
No video or audio editing tools
Ads can be frustrating
Download: Android
2. Slow Fast Slow
iPhone, iPad, and iPod touch owners can use this app to control the playback speed of all videos they record with their devices.
The app's timeline is designed to help you set points at specific segments of the video, which enables you to speed up or slow down only a portion of the video clip without having to cut it.
The Slow Fast Slow app also offers the tools you are going to need to control the audio pitch of the videos you process and avoid any sound distortions that can occur as the result of altering a video's playback speed.
Pros
Interactive timeline simplifies the process of changing a video's playback speed
Complete control over the audio pitch
Videos can be slowed down to 1/16 of their original speed
Allows users to export videos in the square aspect ratio
Cons
No audio or video effects
Sharing files directly from the app is not an option
Download: iOS
3. KineMaster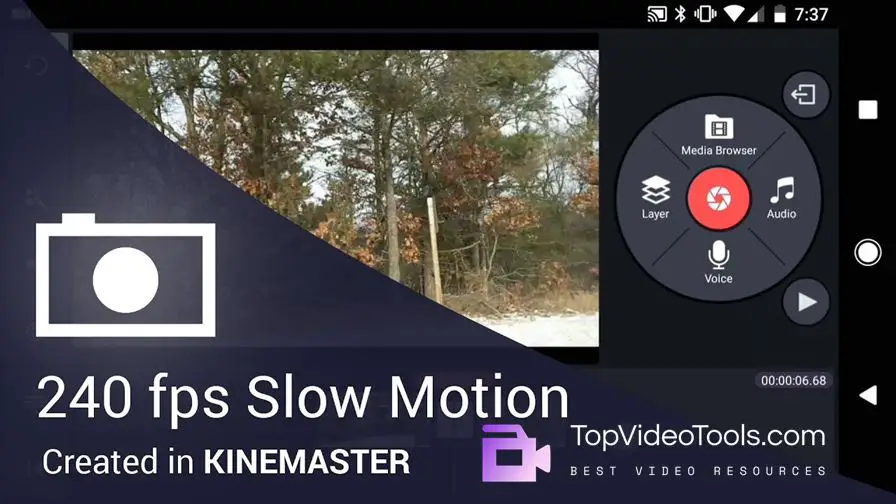 KineMaster is one of the best video editing apps for iOS and Android devices you can find on the market. That's why it is hardly surprising that the app offers powerful tools that enable its users to create slow-motion videos and time-lapses. The function can also be termed as Video Speed Changer Function.
In addition, KineMaster is equipped with EQ presets and audio editing tools you're going to need to fix the original audio of the video clips you speed up or slow down. You can use this cross-platform app to edit and export videos in 4K resolution, but all videos you process with the free version of KineMaster are going to be watermarked.
Slow Motion Video in the Kinemaster Mobile Video Editing App
Pros
Precise video playback speed control
Advanced audio editing tools
Great selection of filters and visual effects
Excellent file-sharing capabilities
Cons
Requires at least basic video editing skills
More expensive than most video editing apps for iOS and Android devices
HOW TO SPEED RAMPING/TIME REMMAPING | KINEMASTER TUTORIAL BASIC STEPS ! Jas Tutorial PH
4. Filmora X Video Editor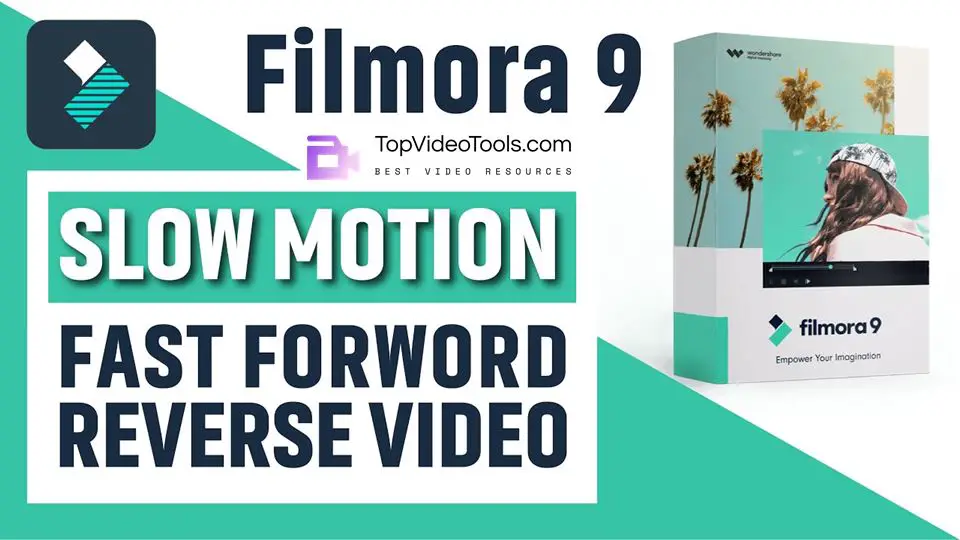 Filmora Video Editor for Windows (or Filmora Video Editor for Mac) has a unique feature called "video speed changer" which is the main secret to speed up or slow down a video. You will use it in manipulating your video's duration with a lot of ease to make fast motion video or slow-motion video.
The other most important feature that will make your editing easy is the timeline which is where all the editing takes place. What's more, Filmora could do more than just fast motion and slow motion, you can download it to find more cool video editing effects.
5 FILMORA X Tips and Tricks you SHOULD KNOW in 2021! Tutorial from Beginner to Pro
5. Kapwing Video Speed Changer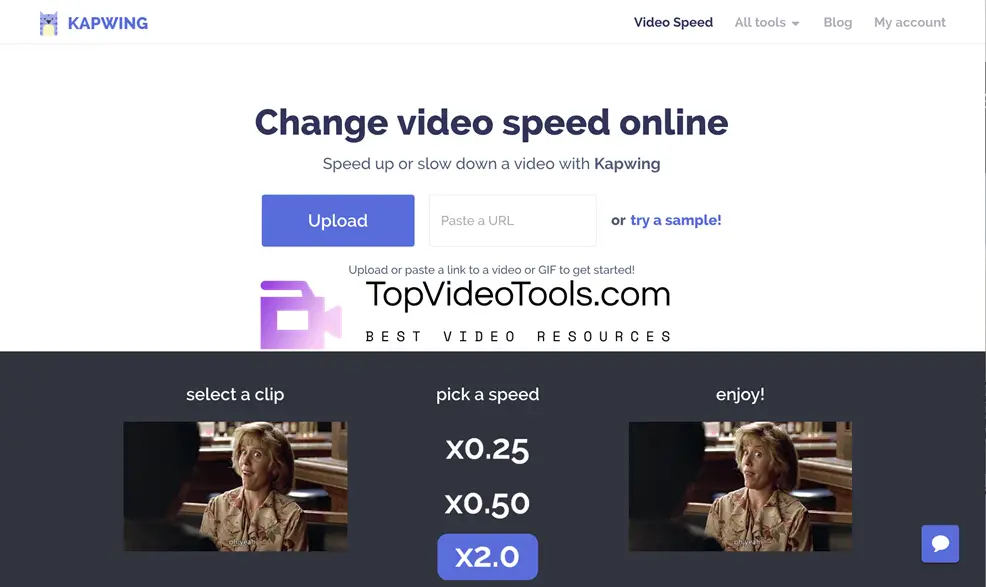 If you've filmed a video that's a bit too long to upload or you want to speed up the action, you might want to increase the speed of your video. In this post, I describe how to speed up your video clips online using a free online tool called Kapwing!
Why Speed up Your Video?
Speeding up a video is a technique for showing time passing or demonstrating a process (like a recipe or DIY craft) in less time, without losing the viewer's attention. It can also add artistic styling and increase the tempo of your video. Speeding up your video also shortens the video in length.
Instagram's main feed videos must be less than 1 minute long, and IG stories only allow for 15 seconds. If you have a great video that's just a second too long to upload, increasing the speed may help.
How to Speed up Your Video?
For this tutorial, I'm using Kapwing's Change Video Speed tool. There are four steps to increasing the speed of your video:
Upload your video
Select a speed
Download and share