For those of you who are looking for an easy way to create cool photo video slideshows, here is a list of the best video Slideshow maker apps and tools, running on Windows, Mac, iOS, and Android. No matter you want the best professional video slideshow maker software, or just some free slideshow maker online, we have you covered!
Best Photo Video Slideshow Maker Tools in 2021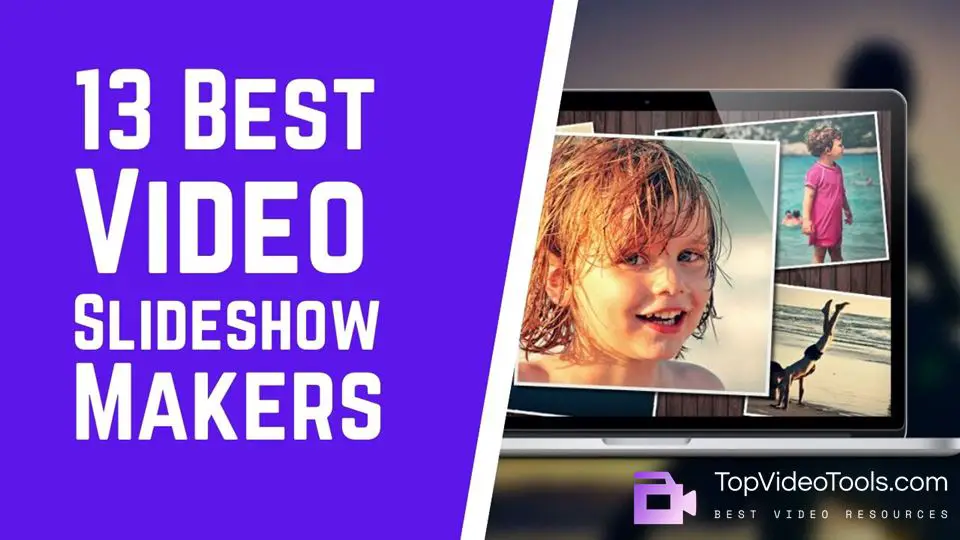 Here are 13 best free photo video slideshow maker tools to use when you want to make amazing slideshows on desktop, online, and mobile.
Adobe Spark
DVD Slideshow Builder
ProShow Gold
Windows Movie Maker
Slidely
Wondershare Filmora 9
Quik
Kizoa
PhotoStory
Movavi
PIXGRAM – Music Photo Slideshow
FilmoraGO
SlideLab
PicPlayPost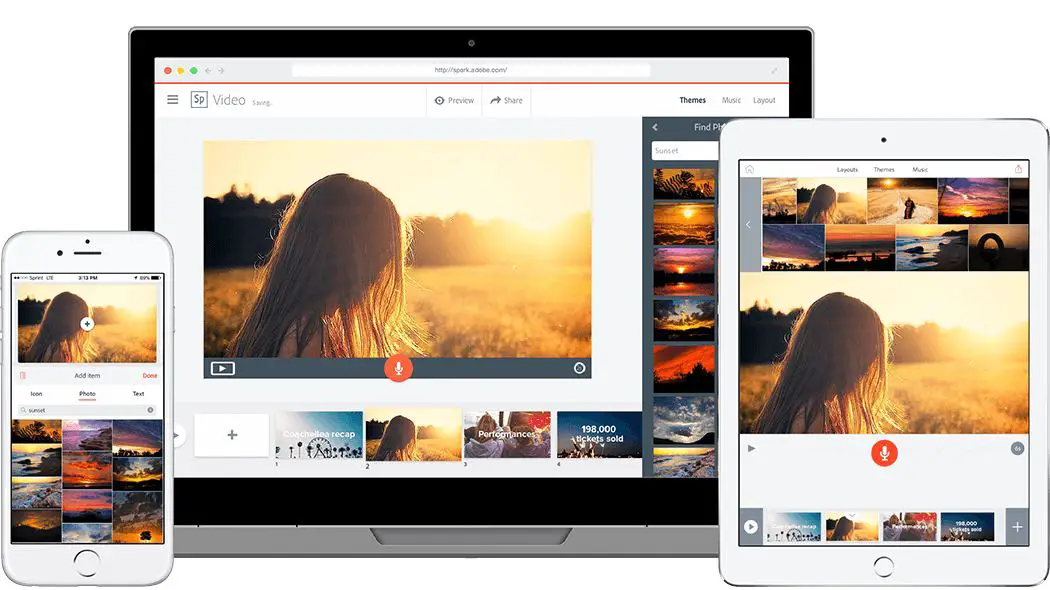 This is another great tool that helps you create a video slideshow for your loved ones. There are no usual timelines here. To start creating your own slideshow, you just need to select a storytelling template or create your own. Then add media to your slides, choose whatever you want whether it is an image, video, music or text, even theme or layout. End up working on your presentation by sharing it with your friends.
Features:
A lot of storytelling templates you can choose from
Publish and share a video on any platform
Works for every platform, as it is an online tool, Windows, Mac, iOS, Android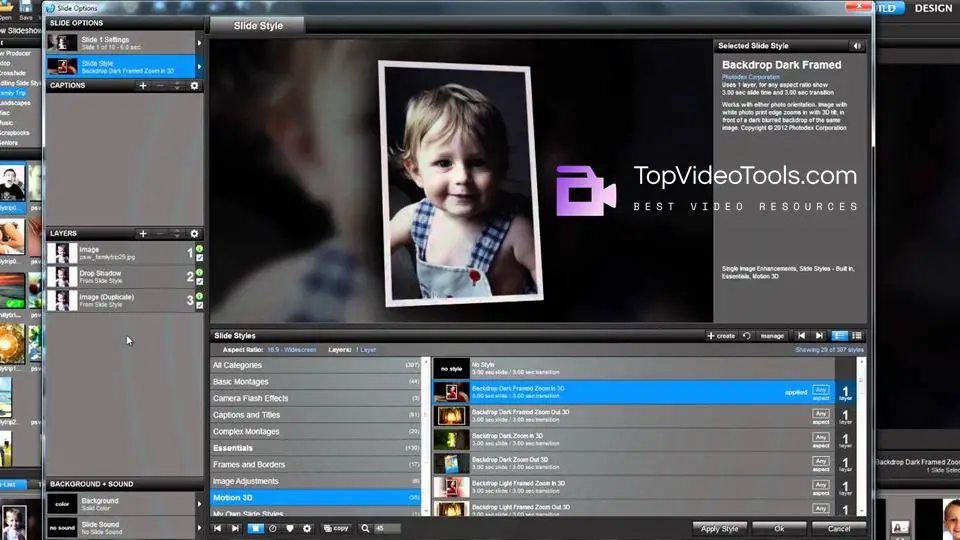 This product makes the photo video slideshow making process instant and easy for everyone. It allows you to make a video or photo slideshow with music just in a few clicks even with no experience. Use the automatic slideshow wizard or create it by yourself.
There is a wide range of more than 900 built-in filters and effects, and hundreds of royalty-free music tracks. After finishing work on your slideshow, save it in one click choosing between more than 50 commonly used formats like Blu-ray, DVD, and 4K and directly share on your social media. It is for Windows 10.
Features:
About a thousand built-in filters and effects
Timing control lets you choose slides and effects duration
3. PicPlayPost for iOS and Android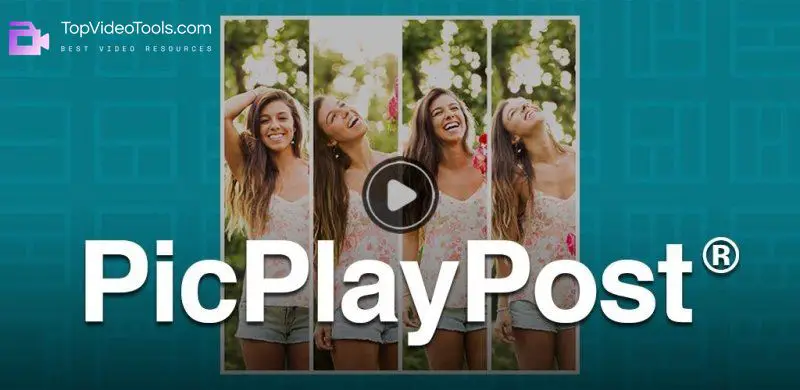 This application allows users to combine photos in unique frame combinations, with customizable aspect ratios, sizes and frame colors, etc. It is a step ahead with advanced filters and frames so that highly interactive slide shows can be developed with ease.
PicPlayPost allows users to pick gifs, videos, and photos, etc for the development of eye-catching slideshows.
Pros:
It offers easy video integration facility to slideshows.
Sequential as well as simultaneous playback can be created along with lots of unique features.
It allows users to think outside the box with arrangements of multiple video sets.
Cons:
It does not offer any iCloud based support for transferring or saving content between different devices.
4. FilmoraGO for iOS & Android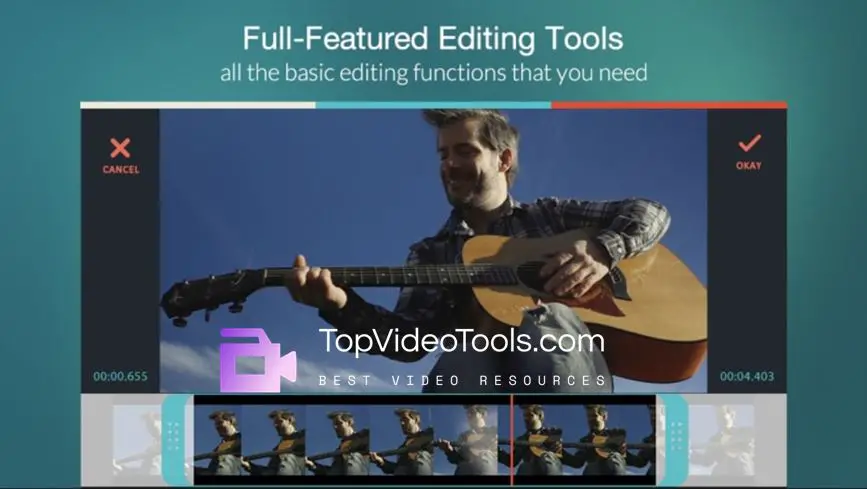 This mobile application promises a highly customizable user platform with an easy to use interface. It is much easier to cut videos and one can also apply various filters over content with lots of ready-made themes. FilmoraGo has received higher attention from the user community due to its professional setup and development tools.
Pros:
It offers a wide collection of themes.
Possesses so many cool effects like reverse, slow motion, and fast motion, etc.
Easy sharing on social media platforms.
Cons:
It sometimes goes slow with heavy files.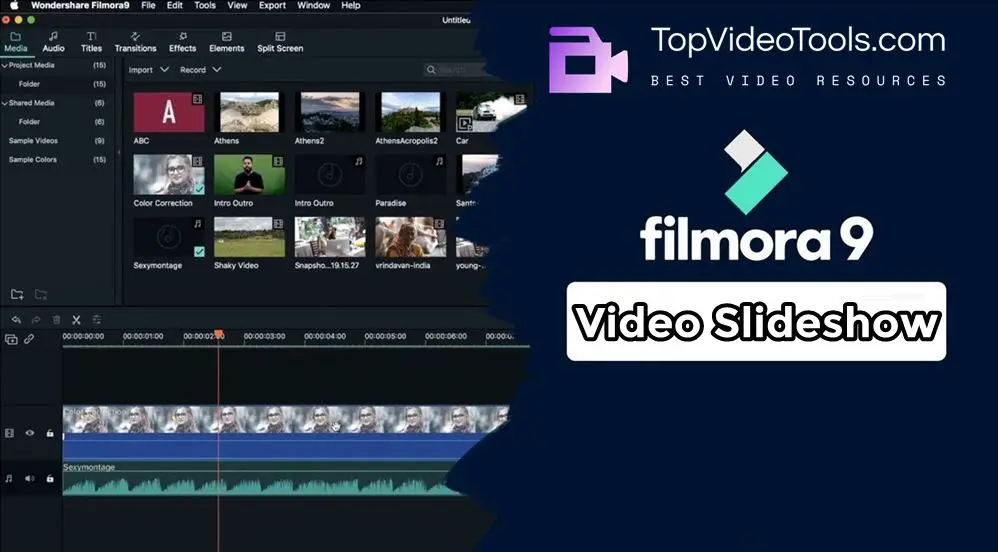 Want to make a great video slideshow using only photos? You can make impressive slideshows using only still images with our slideshow maker,  You might be wanting to make a slideshow for a recent trip you took, to make something special for your family and friends or you are in charge of the wedding slideshow for the bride and groom. Filmora is an easy to use video editing and slideshow creator software that has a ton of effects and music libraries that come with it that can take your photo slideshow to the next level. It works great for Windows and Mac.
How to Make an Impressive Photo Slideshow in Minutes!
Key Slideshow Maker Features
Work with popular image formats like JPEG, PNG, BMP, GIF, and more.

Easily crop, trim, cut, or combine your slideshow or fine-tune the settings.

Personalize video slideshow with stunning transitions, intro/credits, and sound effects.

Apply more advanced video effects like Mosaic, Face Off, Jump Cut, and more.

Save video slideshows for any device, burn them to DVD or upload them online.
How To Create Slideshow
With Filmora Creating a unique slideshow video with this tool is actually very easy and it does provide you with a huge amount of value should you choose to use it. These are the steps you need to focus on:
Step 1: Download and install Wondershare Filmora, then open it. Add all the travel photos into the applications. You can add multiple folders in order to make sorting the images a lot easier.
Step 2: Once you did that, you will have to drag and then drop the images directly to the timeline. Here is where you can change things like saturation, hue, brightness, contrast, and other features. You can also rotate the images and crop them if you see fit. Wondershare Filmora integrates a power tool that helps you face off on your images or you can apply tilt shift as well.
Step 3: At this point, you do need to try and add transitions between each of the images. You can also adjust the photo duration. When you are done with that, you have to select the filters and overlays that will help you make your travel slideshow look better. This is an important step and you do want to spend a good amount of time with it.
Step 4: After that step is complete, you will need to add in music in the background. Add some sounds and royalty-free music in Wondershare Filmora and then use the media library to help you give more of an impact on the entire experience.
Step 5: Lastly, you will have to export the slideshow as you see fit, but you also have the option to share it on YouTube if you so desire. I hope you enjoy the video! There isn't much to it and Filmora can really spice up your photo slideshows. It allows you to get all the tools and high-quality features that you need in order to take the experience to the next level. We recommend you to check it out right away as it's well worth the investment!
6. Quik Video Slideshow Maker
With the Quik app, you can create awesome travel and picnic slideshow videos with just a few taps. Choose your favorite photos and video clips then let Quik work its magic. In seconds, it finds great moments, adds beautiful transitions and effects, and syncs everything to the beat of the music. Customize your story with text, music, and easily share it with friends. Editing has never been this fast—or this fun.
GoPro: Introducing Quik™ | Mobile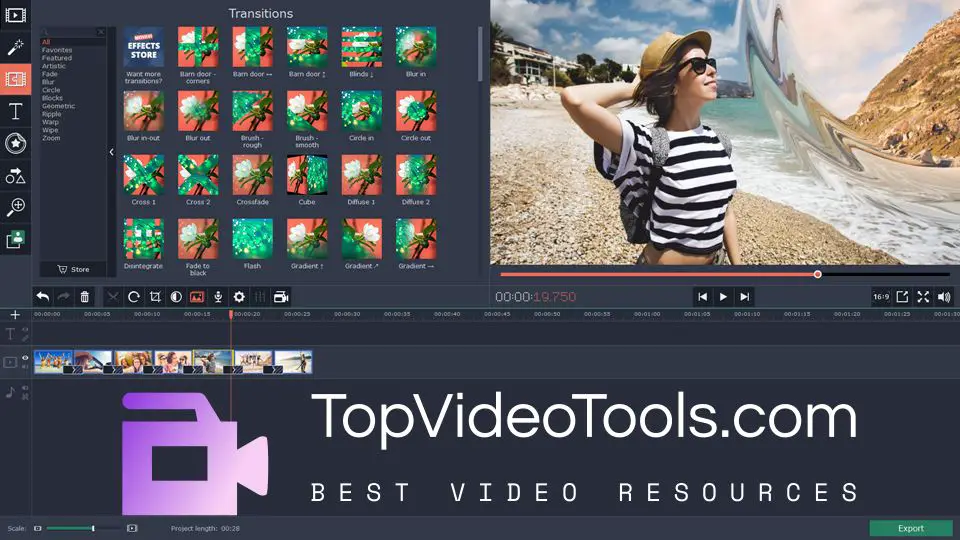 Movavi Slideshow Maker is an easy to use tool which allows you to create amazing slideshows with transitions and animated text and title effects. There are lots of pre-made slideshow templates for you to choose from. Apart from all this, it also offers a library of free background music, filters, and overlay effects, as well as other special effects. You can export the final slideshow as any popular video formats, such as .mov, .mp4, .avi etc. Movavi video slideshow maker works great with Windows 10 and Mac.
Don't forget to check out Best Pro Video Editing Tools, Best Video Editing Apps for Mobile Phones, and Best Online Video Editing Tools for Business.